Boardroom A/V Corporate History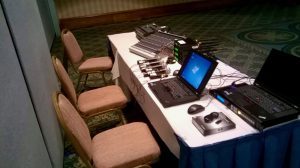 Boardroom Audio Visual is an audio video equipment rental leasing company based in Atlanta, Georgia. Opened for business in 2001, we have built a reputation for providing excellent service to business meetings and special events. Our goal is to provide you with top quality equipment at affordable prices for any size event.
With our team of experienced and very knowledgeable technicians, we can give you the special attention that you deserve for your event. Boardroom Audio Visual has what it takes to make your meeting and event a success; contact us today so we can exceed your needs.
Why choose Us?
Your event requires quality equipment for affordable prices and professionals that have in-depth industry experience, so let Boardroom Audio Visual provide to you the exceptional services that you desire.
Friendly staff that will work with you
Can accommodate your requests
Veteran industry professionals
Pricing that works with your budget
Your local, small business that cares
Available to our clients 24/7
Our Mission Statement
Our mission is to provide you with the best customer service and technical support for your meeting or special event. We can assure you that your audio visual will run smoothly while you concentrate on other matters. We pride ourselves on our return business and will work to complete satisfaction to add you to our growing list of clients.Our goal is to be known as a service oriented company. We will work for your company by being your audio visual producer and consultant, providing equipment at affordable and reasonable rates.
We do offer discounts, weekly rates and package deals. We look forward to working for you in the near future. We are Boardroom Audio Visual, a complete audio visual service provider.